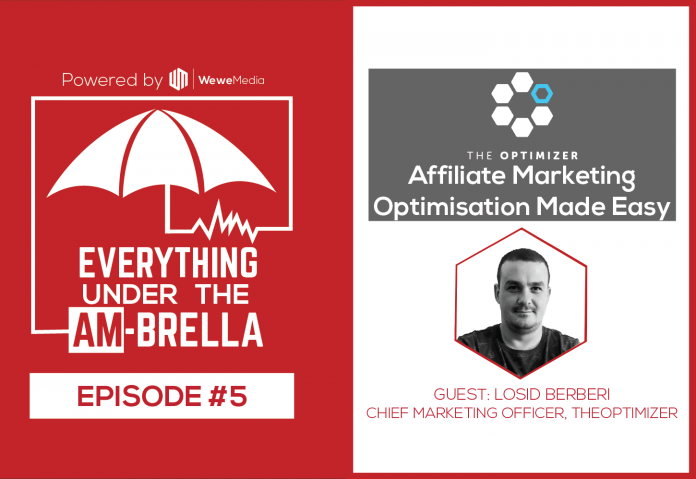 Listen, Subscribe and Rate us on iTunes, Spotify or TuneIn!
EPISODE #5: TheOptimizer – Affiliate Marketing Optimisation Made Easy
"Imagine you have 10 campaigns, all of them in different timezones, you have to stay up all night or accept the loss you will have when they run while you sleep" – Losid Berberi, CMO of TheOptimizer 
Are your affiliate marketing campaigns keeping you up late at night? If so, this episode is definitely for you. Today we're excited to have Losid Berberi, Chief Marketing Officer of TheOptimizer join us for an insightful talk on how automation can make running any affiliate marketing campaign much easier. 
Being affiliate marketers themselves,  TheOptimizer team understood the problems everyone in the industry faced. If the repetitive tasks of pausing ads, changing landing pages, optimising bids etc… sounds familiar, then listen up because someone has the solution to save you from pulling another all nighter to monitor your campaign. With an automated platform, it's even possible "to create more than 65 campaigns with 5-6 creatives each under 20 mins".  Such time-saving benefits that TheOptimizer bring can do plenty to help all the affiliate marketers out there in scaling up their campaigns.  Make sure to stay till the end to hear about an exciting update coming up with landing pages! 
Special Discount
Exclusive to our listeners, TheOptimizer is generously giving a 69% discount for you when you sign up with our coupon "WEWEMEDIA" HERE. Don't miss this rare opportunity to optimise your way to affiliate marketing success. Want to get a 1 Year Subscription for free? Then check out our Hottest Dating Promo going on right now! 
You'll Find Out:  
How TheOptimizer started & challenges faced

How affiliates can improve their campaigns with automation

Unique features on TheOptimizer that affiliates will find useful

Personal Tips & Recommendations

Exciting updates coming up for TheOptimizer 
Guest: Losid Berberi, Chief Marketing Officer
Host: Darren Liu

For the curious, here's the Case Study mentioned.
Just so you know, TheOptimizer is now integrated with these traffic sources below so if you're using them,  make sure to take full advantage of it!
The Optimizer Native:
MGID, RevContent, Outbrain, Taboola, Yahoo Gemini, VoluumDSP, ContentAd, AdsKeeper, Runative 
The Optimizer Mobile:
ZeroPark, PropellerAds, PopAds, PopCash, ExoClick, Plugrush, HilltopAds, RTX, Clickadu , Richpush
Thanks for joining us this week and feel free to leave your feedback in the comment section below! If you enjoyed this episode, please subscribe to us on iTunes, Spotify or TuneIn and leave your valuable ratings and reviews!
For more on Everything Under the AM-Brella and Wewe Media, follow @Wewemedia on Instagram & Facebook