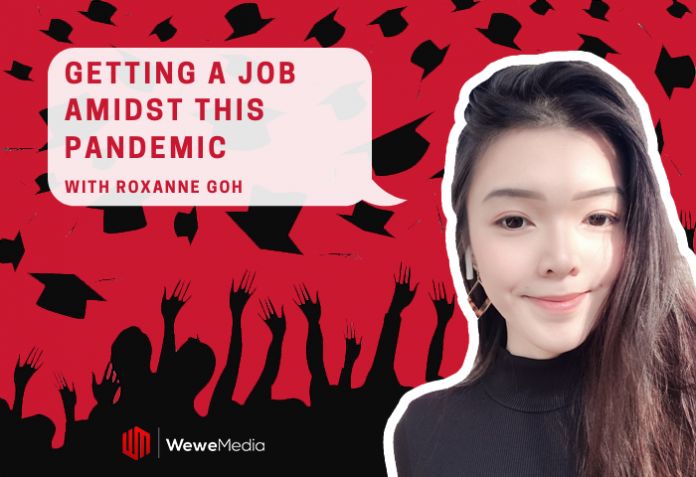 The biggest topic of year 2020, Covid-19; Corona Virus. I would never have predicted what was in store for me as I stepped off an SQ flight in February. Right after graduation, I went on a 3 months long vacation in Europe. "I will start my job hunt when I am back" was what I thought. After all, I deserved a good break after 4 years of mad grinding in University. What I did not expect was that after this amazing holiday I had touring all across Europe, I was set to be stuck in lockdown for the next 3 months.
With the same positive outlook as always, this did not faze me. I was not scrambling up and down desperately looking for job offers and accepting any that came my way. I took this time to do projects I had always wanted to start on but always procrastinated at. I set up an online store on Instagram, selling brand new clothes that I wanted to find a new home for. I found the time to bake and tried out many recipes that had only been cooking up in my head. Best of all, I spent every day with Family. It was a fresh outlook on life for me, for who would have foreseen this pandemic that allowed us to have 3 months to spend with our loved ones.
I am grateful that I was one of the lucky few. I did not have the financial stress of needing to secure a job and was able to treat this lockdown like a bonus holiday with my family. However, there were many fresh graduates out there sourcing for jobs, coping with disappointment and the lack of job offers were not helping. There were less job offers than applicants due to this pandemic. Normally, a fresh graduate with plenty of internship experiences would be able to get the ideal job soon after sending in a handful of job applications. However, in these extraordinary times, this was not the case. Everything was far from normal.
I counted my lucky stars, as with the applications I sent out, I was offered a few positions. I wanted to do something that was within my field of studies- Communication; and also something I enjoyed- Digital Marketing. So you definitely knew I was delighted to be offered the Digital Marketing position at Wewe Media. From the start, Wewe  Media caught my eye, as I had no idea what affiliate marketing was about. From their social media platforms, I saw that the team was young, fun and energetic, something that I looked for in an office environment. It was one of the oddest interview process, having a conference call with Aaron and learning more about Wewe Media without heading into the office. Pre-Covid, we rarely go through job interviews without meeting our interviewer face to face and going into the office once. Looking back, it is definitely an experience worth mentioning in the future.
Similarly, employment will be different from the pre-Covid era. Employers' priorities will change, so will the skills required by companies. I kept up with the news and it was shared that the skills needed to survive the job market in the post-Covid world are tech savviness; adaptability and flexibility; creativity and innovation; data literacy; critical thinking; digital and coding skills; leadership; and lifelong learning. All of which, I truly believe will definitely give u an edge over other applicants.
The Covid-19 pandemic has destroyed companies, erased jobs and dragged economies worldwide into their worst crisis in generations. It is not only affecting the health of the public but also impacting the economy. The market takes a new dive every other day, it is no longer how businesses foresee 2020 to be. Being an affiliate network ourselves, it is absolutely critical to stay on top of how changing market and trends might affect paid searches and paid social accounts, from changing click and impression volumes to changing costs. Since the pandemic hit us, many conferences, events, and product launches are hung in the mid due to the global crisis and lockdown. However, since marketing is the magic wand for many companies, it is showing its wonders through online platforms. Marketers are making fantastic use of social media platforms and online portals to develop campaigns that can help them succeed in their endeavours.
It goes without saying that there is going to be a substantial shift in how people see those that have built their businesses online Post-Covid. Compared to most of us whose business can operate solely online and digitally, regular employees at brick and mortar stores have had their lives turned upside down. During this period, I observed a lot of interest in working from home and also a lot more respect given to business owners who started building their business online. It definitely is a different perspective than when we stepped into 2020. What we can do now, is to keep moving forward. By seeking answers and asking many more questions, we can definitely create the best fit of solutions to cater to the needs of clients in real-time. If what we set out to achieve is an outstanding result, we surely need to provide an overwhelming effort or service.
To my fellow graduates- do not give up just yet! Constantly track career websites, keep your LinkedIn account updated and continue to attend online courses to further upgrade yourself. If you have the keen interest to learn a foreign language, why not! This is the time to do what you have been pushing off. Of course, we must not forget to keep up with current affairs. To "adopt, adapt and acquire new skills" should be the key driving philosophy in this critical period. This time round, we have to be realistic in our choices and expectations. At the same time, be versatile enough to meet the challenges of the new normal in the workplace. Don't forget, you are never alone.
Want to get in touch with Roxanne Goh? Feel free to drop her a direct message.