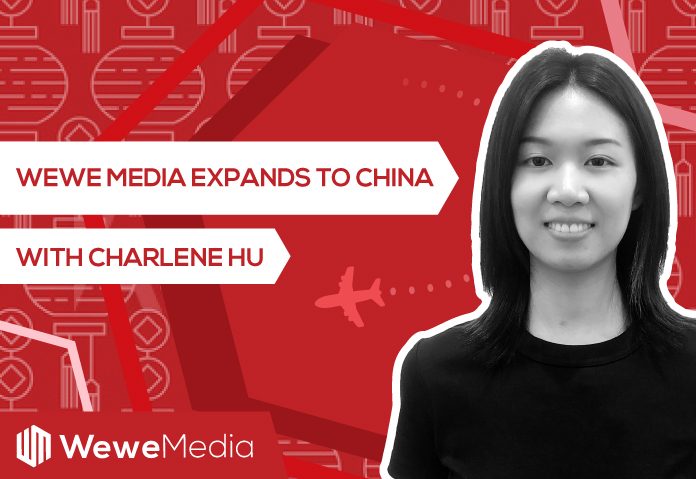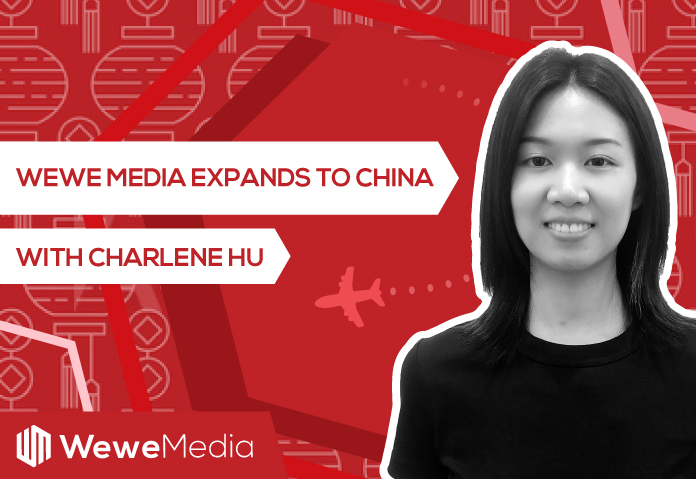 Wewe Media is excited to announce expansion plans into the Chinese affiliate marketing industry led by Charlene Hu, who takes on her new role as a Senior Affiliate Manager. With 5 years of expertise in business development and mobile content, she will be a strong addition to the team to extend its global reach to the Chinese market and uncover new business opportunities.
Wewe Media now has team members in 6 countries : Singapore, Vietnam, Philippines, Brazil, Russia, China to cater to the diverse needs of affiliates and advertisers globally. 
Let us get to know Charlene Hu as she shares the latest trends in the Chinese affiliate market and how she can help you to excel with us at Wewe Media.
Could you tell us about yourself and your experience in affiliate marketing? 
My venture into the affiliate marketing industry began in 2014 with a business development role in charge of growing advertisers in games and tool app verticals. Then I went on to form a mobile subscription based affiliate network with my friend in Shenzhen where I was also in charge of advertisers and the business development team in 2017.  In 2018 I briefly dived into the e-commerce industry for awhile. But looking back, I am glad to say that, in the past 5 years, I have personally closed many big clients and successfully built a Business Development team and an e-commerce team. Now that I've joined the Wewe Media family as an affiliate manager, I certainly hope to expand my experience in a different role where I continue to propel the growth of this industry with Wewe Media. 
2014年我加入了affiliate marketing 这个行业,第一份工作主要是作为BD,负责开拓游戏及工具类app的广告主,与各客户建立良好的合作关系。2017年,我来到了深圳,与一位朋友组建了以手机订阅为主营业务的联盟,负责开拓国内外的广告主,管理BD团队。2018年,也经历一段探索电商业务的时期。过去的5年时间里,我独立开拓了许多大客户,也成功搭建了一支BD队伍以及一支电商商务团队。如今我加入了Wewe Media 这个大家庭,成为了一名AM,我也希望能通过换一个角色来拓宽经历,在affiliate marketing 这个行业中有更多发展。
What are you excited to bring onboard Wewe Media?
As a part of an international team like Wewe Media, I am definitely excited to introduce our network to more Affiliate Marketers in China, and to build strong partnerships with them. I believe there will be plenty of opportunities from the China industry. Our recent collaboration with Blue Friday's Global Traffic Competition, where Wewe Media joined as a partnering network is a great start and I am sure there will be more to come. 
作为Wewe Media 的一员,当然是希望能让更多中国的 afffiliate marketers 了解我们,并与Wewe Media 建立良好的合作。比如说这次与 Blue Friday Global Traffic Competition 合作是个很好的开始,我也相信将来会有更多类似的机会。
What are some big trends in the Chinese affiliate marketing business to take note of ?
As for now, the gaming and E-commerce live streaming apps definitely seems like the future trend. With stricter restrictions in the gaming industry in China, gaming companies are finding it harder to get their games licensed, so many of them are starting to look for overseas opportunities. On the e-commerce side, there are influencers who can sell 15000 lipsticks in 5 mins through live streaming. With the power of live streaming being able to generate so much hype, it could become the key channel for e-commerce sales in the future, and these apps will definitely bring in the next big wave.

从目前的情况来看,游戏app、电商直播app出海将会是未来的趋势。受政策影响,国内游戏管控加强,发行商拿到游戏版号的难度加大,因此目前只做国内游戏的公司会开始寻求海外机会;在电商方面,有直播博主5分钟销售口红15000支,电商直播这种强大的带货能力将成为主要的电商销售模式,电商直播app将会迎来热潮。
What challenges and opportunities do you foresee for the Chinese affiliate marketing business?
For challenges,  competition is certainly getting intense as advertisers adopt similar business models. The originally popular subscription and CPI advertisers are reducing their budgets, and Google Play removing Chinese developers' app from the store for unknown reasons has made it difficult for companies in this vertical. So it is not surprising that many are looking for other opportunities.
With regards to opportunities, as companies look out for change, this suggests that new advertising types or business models will be more easily accepted. However, the key issue lies in whether new advertisers can work together with companies who have these traffic to fulfill their needs. On the traffic side, China remains one of the biggest exporters of mobile phone such as Vivo, Oppo etc. These mobile phone manufacturers will bring new traffic source and it is worthwhile to dig out what their traffic monetization demands are. 
On the E-commerce side, China possess big sellers from Amazon, who are considering not just to rely on overseas platforms to push their products, but also planning to create their own stand alone brand or website. However in obtaining traffic or users, they lack the experience. In Shen Zhen, some traffic vendors are also trying to start their own E-commerce business but they lack experience in supplier end and product operation . There could be great opportunities for the industry if we can combine the needs of power sellers with these traffic vendors' skills. 
挑战:业务模式高度重合,竞争相当激烈,原来热门的订阅和CPI广告投入市场的预算减少,且GP对中国开发者的app大规模下架, 业务类型单一的公司处境艰难,许多公司都在寻求转型的机会。
机遇:当大家都在寻求转型时,就意味着对新的广告类型或业务模式更容易接受或愿意尝试。主要在于新的广告或业务如何能够与这些拥有流量的公司的需求结合起来。
流量方面:中国仍然是手机出口大国,如vivo, oppo等。这些品牌手机厂商的流量将会提供新的流量入口,这些流量的变现需求值得深入挖掘。 
电商方面:中国拥有许多亚马逊电商大卖家,他们也在考虑不再只依赖海外的大平台来销售产品,更多地是想打造自己的独立站/独立品牌,但在获取流量/用户方面他们又相对缺乏经验。在深圳,一些publisher公司因擅长流量获取,也在转型做电商,但是在供应链、商品运营这端又相对缺乏经验。如果affiliate marketing能整合大卖家与大渠道的优势,应该会是一个不错的机遇。
What do you see for the future of Wewe Media in entering the Chinese Market?
I believe that Wewe Media will certainly find a lot of new opportunities by expanding to China. 
If we're looking at growing our base of advertisers, Chinese advertisers are definitely paying more attention to the South East Asia (SEA) market. Wewe Media, as a company based in Singapore with regional team members who have extensive knowledge of SEA markets, can definitely bring these clients more efficient and localized assistance, and help drive greater success to their products in SEA. 
To expand our affiliates base, we definitely face a lot of similar competitors, but what affiliates ultimately look at is the offer source and how trustworthy they are. So Wewe Media should certainly focus on increasing our publicity in China and to raise our reputation. On another note, China is lacking in affiliate networks who are competitive in the Dating, Sweepstakes and Nutra vertical. As such we can definitely leverage on our advantages in these verticals. 
Finally, we don't need to just limit ourselves to affiliate marketing. The Chinese online industry is growing rapidly, there's certainly plenty more new opportunities waiting for us to uncover.  
我相信Wewe Media 进入中国能发现一些新的机遇。
从开拓广告主这一方面来说,东南亚市场是很多中国广告主看重的市场,Wewe Media作为一家base在新加坡的公司,且员工遍布在东南亚的各个国家,或许我们可以根据对东南亚国家的了解,能够给客户提供更多有效的本土营销方案,帮助他们的产品在东南亚的推广获得更大的成功。
从开拓affiliates 而言,我们面临着众多同行竞争对手,但affilaite最终看的仍然是offer资源以及信任度,所以一方面Wewe需要加强在中国的宣传,提高知名度。另一方面,中国本土还缺少在Dating, Sweeps, Nutra 这些品类上具备很强竞争力的联盟,我们可以着重打造我们在这方面的优势。
当然,我们也可以不仅仅着眼于 affiliate marketing,中国的互联网在高速发展,有许多新的可能等待着我们去探索。
Any affiliate marketing tips to share from your experience?
With my experience so far, I would like to share a few general tips regarding business:
To accumulate plenty of work knowledge and to find out more about the industry's background. It's important to constantly learn from industry experts and exchange views. 

Treat your clients with honesty, understand them , really listen to find out their needs and background. Always try your best to solve their problems and have their interests at heart. 

Finally, although easier said than done, never give up easily. 
基于以往的工作经验,我主要分享几点关于商务方面的tips:
1. 储备行业知识,多了解行业背景知识,不断学习与分享
2. 真诚地对待客户,了解客户,知道他们的处境以及需求,尽可能地帮助他们解决问题;
3. 不轻言放弃
Do you have a favourite quote you live by?
"I was in darkness, but I took three steps and found myself in paradise. The first step was a good thought, the second, a good word; and the third, a good deed."
–Friedrich Nietzsche
For me, this quote gave me a direction out of troubling times. What's done is done but we should always keep a positive mindset. Sometimes all it takes is a change of attitude and our mindset in order to see things differently. As someone who finds it pointless to complain, the way I like to deal with problems is to come up with a good idea, find a solution and take action.  
"我曾陷于黑暗之中,但是我走了3个步就找到了天堂:首先是让自己拥有好想法,其次是积极的言语,最后是踏实的行动。" —尼采
对我来说,这句话对我有很大的帮助,在我面对困难时引导了我走出困境。有些事已发生了,是不能改变的,但是我们应该保持正面的态度。有时候,只需要改变态度,想法,就能用不同的角度面对事情。对我来说,面对困难不应该抱怨,反而应该想出好办法直接执行。
Want to get in touch with Charlene Hu? Feel free to drop her a direct message.