FRIENDS OF WEWE MEDIA REFERRAL PROGRAM
Good friends don't leave friends behind!  That's why we have decided to launch a new referral program – Friends of Wewe Media – to reward all our loyal affiliates who bring in their friends. When we say "Join the Wewe Network, Feel the Difference" , we mean it, and we want our affiliates who are already running with us to feel even more appreciated. 
SPECIAL DEAL – LIMITED TIME ONLY
For a limited time period, simply refer a friend to us and start earning 1% on the revenue your friend has made IMMEDIATELY * after they've started running with us! No minimum revenue target, start earning right away! Best of all, this is a LIFETIME program so you can be earning a long way down the road – it's all about working together to earn big bucks! 
  How to join the program:
Find the affiliate link in your Wewe Media account
Copy & Paste to share the affiliate referral link with your friend 

Your friend have to sign up through the affiliate referral link and complete account application 

Keep track of your referral earnings in the Referrals Tab under the Reporting Sidebar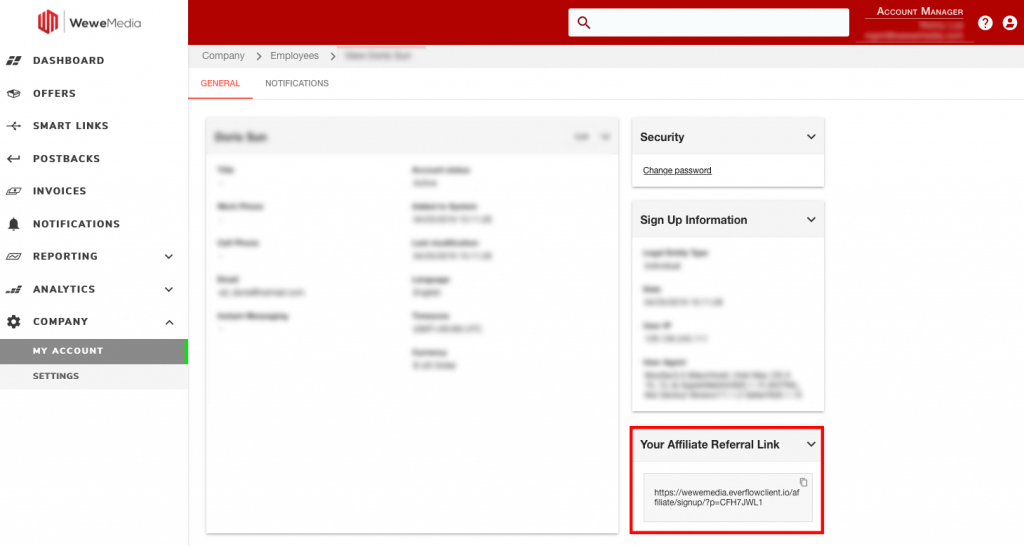 Retrieve your affiliate referral link from the Wewe Media Platform
Who is eligible? 
The referral program is open for all Wewe Media affiliates and advertisers who refer their friends.  So start sharing your link through all your network channels and start earning together because sharing is always caring!
*Terms & Conditions  
All referrers are not allowed to refer yourself and earn referral from the new account

In the event of fake account detection, this will lead to account banning

Wewe Media reserves the right to terminate the program from the referrer if the referrer's account is inactive for more than 3 months

Wewe Media reserves the right to determine the end date of Special Deal Offer. Friends referred in after Special Deal period have to hit a revenue target of $25K before referrer can start earning a 1% referral fee.