We are back from Bangkok! Our exhibition in AWA was a resounding success. 
Here are the key highlights:
Reached out to several existing key partners to scale up our partnerships.
New major traffic sources are going to use our SmartLink to monetize their traffic
Acquired dozens of new direct advertisers to broaden our offer base with high payouts.
45 happy people, received our massage voucher prize and use it to rejuvenate after the event! (5 vouchers are kept tightly by our team members …….. I am having a hard time snatching it back from them)
1000 "IMHyperOptimized" stickers given away! The stickers were much-loved by everyone, and many of you took extras for your friends and colleagues too.
Here's what Wewe Team did after the AWA ~
Internal Wewe Team beer party, We are so drunk that all secrets were revealed 😉 Ask your AM about the secrets. We have our very own Twilight episodes in Wewe…
We spent one night daring each other to eat creepy crawly creatures… All of us took it like a man!.. even the ladies… yeap… crickets, spiders, grasshoppers, maggots you name it… we ate it…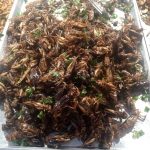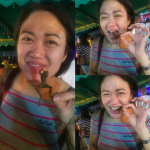 Foods and foods and foods… it feels like our tummy going to explode at any seconds.
Last but not least… Massage spree… It's clean… believe me!
Last but not least, for our existing partners that we met at the show, it's great to see all of you are well and doing great. Always good to connect at every show, and forge stronger relationships.
For now, all of us here at Wewe will be working double time to hit up all our new partners.  #christmascanwait
See you at the next conference! We will be bigger and better than before…
😉
P.S. Apologies if you came by our booth and we were not able to speak to you right away. 
We got a number of comments that our booth was overcrowded at times, and many of you had to wait for some time before you could get hold of someone.
We will bring more Wewers the next time!