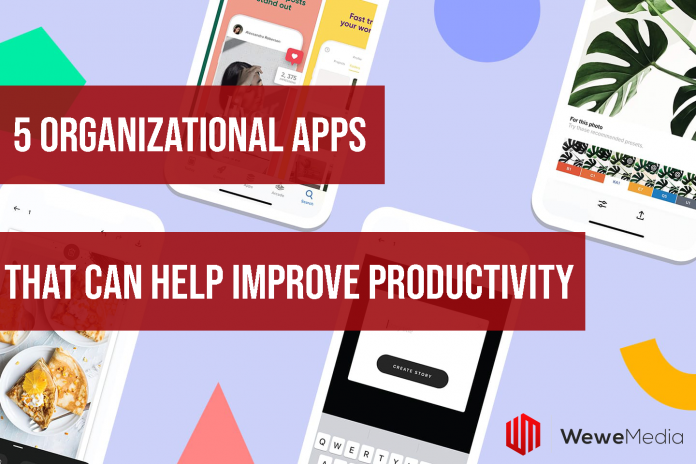 How ironic is it that smartphones- the exact same tool that often drives you to distraction and causes you stress, can also help to get your life together. Smartphones can do pretty well at helping you get organised, whether it is to improve productivity or just keeping track of your schedule and saving some time in the day.
Fortunately, we live in a world where there are tons of different applications and organization tools for everything that we do nowadays. Just like the weeds in a garden, a new one pops out everyday, and it definitely is hard to weed through the bogus from the ones that revolutionize a workflow. Read on for some of the best organisation apps that can help to straighten out your life.
In no particular order:
1. Evernote
With Evernote, you can sync up your smartphone, laptop and life with this one app. It is the top contender when it comes to note-taking apps on your smartphones due to its long list of features. It has the ability to take notes in every possible format: text, pictures, audio recording or even through videos. It even has the function to scan and digitize your documents, just by taking a picture using your smartphone's camera. This easily allows you to sign documents digitally or share them with anyone instantly.
2. Trello
Trello is an amazing organisation tool when it comes to managing work activities, be it for yourself or within team members. The team at Wewe Media uses Trello ourselves and we love it. It is incredibly visual and highly adaptable, making your life easier when you have several people working on your project, especially when they are scattered across different physical locations. The ease of working with Trello is because of its three tier information system – Boards, Lists and Cards. You will be able to map out every task of the week in individual cards, assign due dates, add different team members in the card and even include multiple attachments. To help you focus on the more important tasks at hand, you can even highlight the priority of each task.
3. Forest
If you are someone who needs help beating your phone addiction, Forest is the app for you. Imagine an app for productivity but alike to a stimulation game. For every minute you spend working on a task and away from your phone, the Forest app stimulates a tree growing and budding. Leave the app and the tree dies. You can earn credits by not using your smartphone and use the credits to plant real trees around the world. Talk about keeping our environment green.
4. Seedly
With over 80,000 users, Seedly is the first all-in-one personal finance app developed in Singapore. This app allows you to integrate your accounts seamlessly so that you can manage everything from account balances to expenses. You can swipe to compare month-on-month transactions within the app and also keep track in travel currencies- which is awesome when you want to track your expenses on a holiday! What makes Seedly stand out is its decluttered and minimalist user interface, which is a breath of fresh air that allows users to easily navigate through the app. Definitely for users who dislike going through complex graphs and charts just to "visualise" one's spendings.
5. Todoist
An app for task management, Todoist has a fairly minimalist interface, yet packs a lot of power with its tagging and natural language processing features. With projects, labels, filters and priorities, you can tailor Todoist to your personal workflow. It works like a planner and allows you to create tasks, take notes and never miss a job. Not forgetting integrations, you can use Todoist with Google Calendar and share work tasks with your team. Zapier also works well in connecting Todoist with other apps.