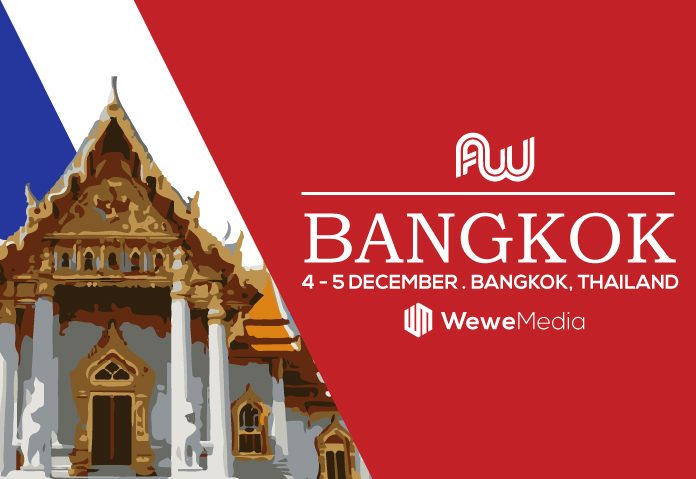 Wewe Media is heading to Affiliate World Asia in Bangkok from 4-5 December 2019! Make sure to meet up with our team members heading over if you'd like to have a chat.
Event Details:
Dates: 4 – 5 December 2019
Location: Centara Grand and Bangkok Convention Centre
Schedule a meeting with Wewe Media 
While networking opportunities play a big role driving affiliate marketers from all over the world to attend these events, we have to say that the learning opportunities to upskill and stay on top of the latest affiliate marketing trends is another great reason why these affiliate events should not be missed. So here's what we are looking forward to at AWA 2019.
Facebook Ads Lab
Facebook is one of the best ways to start on paid advertising, but getting results on such a competitive platform can be a complicated process with plenty of niche targeting opportunities. Attending AWA not only expose you to affiliate marketers of all levels and countries, you will have a chance to attend their Facebook Ads Lab to learn directly from Facebook Ads Experts. Whether you're a beginner ad buyer or an advanced affiliate, this is a valuable learning opportunity you shouldn't miss. Here's what you can expect :
Speaker: Savannah Sancheza
Topic: Machine learning on Facebook: Is it smarter than a seasoned media buyer?
When: Day 1 – 11.10am
Where : Main Stage
Speaker : Dimitri Nikolakakis
Topic: Scaling Facebook Ads: How this College Dropout Accelerated into an 8-Figure Brand Builder
When : Day 1 – 11.45am
Where : Main Stage
Speaker: Nick Shackelford
Topic: Inside the Mind of Nick Shackelford
When : Day 1 – 12.35pm
Where : Main Stage
Facebook Ad Buyers Mixer (Networking Event)
When: Day 1- 1.25pm – 1.55pm
Where : Networking Zone
eCommerce Ads Lab

For those in the eCommerce space and looking to optimise sales and conversions, AWA brings you some of the best thought leaders in the industry. Make sure to take advantage of these networking opportunities to boost your online business. Established Ecommerce brands will get the best paid advertising and growth hacking tips while performance marketers will find the best methods to market their online business. Now check out some of these exciting events lined up for you.
Speaker : Earnest Epps
Topic: How to optimise your google shopping campaigns to increase ROI and minimise costs
When: Day 2 – 12pm
Where : Main Stage
Speaker : Joshua Chin
Topic: How to take control of the holidays with my 6 step email marketing sales sequence
When: Day 2 – 12.55pm
Where : Main Stage
Speaker : Kevin Zhang
Topic: How Mastering Infrastructure Enabled Me to Build A $20M Ecom Empire in my 1st Year
When: Day 2 – 1.20pm
Where: Break out Stage
Speaker: Alex Tshering
Topic: How We Built One of The Fastest Growing Brands in the US with Facebook Ads
When: Day 2 – 1.40pm
Where: Main Stage
Ecommerce Marketers Mixer (Networking Event)
When: Day 1 , 2.30pm – 3pm
Where: Networking Zone
Leads Lab 
Generating leads is one of the top priorities in any business, especially in the online space. If you're looking for tips and tricks to boost your lead quality and numbers, AWA's Leads Lab will make your pass worth the price. Beginner affiliates will learn to build a lead generation business from scratch while the advanced affiliates can scale up their campaigns with expert proven techniques. Here's what you can expect:
Speaker: Matt Diggity
Topic: The 6 Figure FLip Story: Flipping your Web Property to a 14x Investment with Affiliate SEO
When: Day 1 – 12.55pm
Where: Breakout Stage
Speaker: Tabish Nishat
Topic: ROI Booster: How to Enable AI to Significantly Increase your Adwords Lead Gen Campaigns
When: Day 1 – 1.40pm
Where: Breakout Stage
Speaker: Joe Burton
Topic: The Perfect Funnel for List Building with Native Ads
When: Day 1 – 2.30pm
Where: Main Stage
Speaker: Anthony Sanandrea
Topic: Owning the Customer: How I Built a $100K + Per Day lead Gen Business from Scratch
When: Day 1- 3.10pm
Where: Main Stage
Lead Generation Mixer (Networking Event)
When: Day 1 – 3.30pm – 4.05pm
Where: Networking Zone