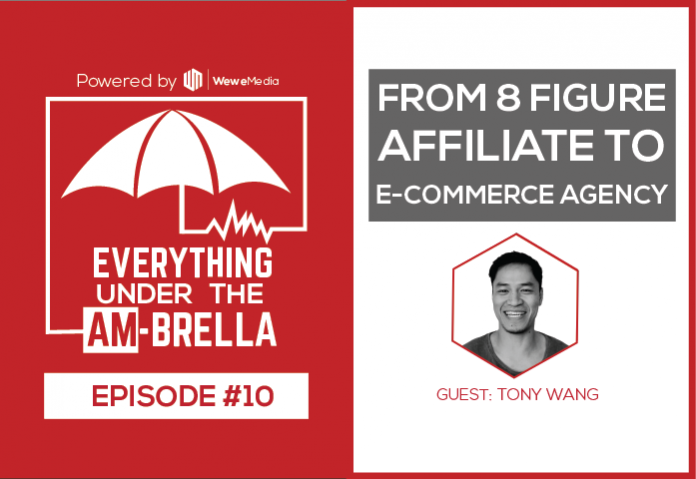 Listen, Subscribe and Rate us on iTunes, Spotify or TuneIn!
From 8 Figure Affiliate to E-commerce Agency with Tony Wang
"I want to build something that will outlast me…based on core values and purpose rather than just profit…there's a limit when you put profit first."  – Tony Wang
When a sudden illness sent Tony to the emergency room for 2 weeks, it became a turning point that made him reconsider his life goals. Abandoning his chemist path, he found his way into the affiliate marketing industry and worked his way up from an intern to earning a crazy 8 figure sum. Now the founder of his own E-commerce Agency, he's on his way to fulfil his vision as the #1 Ecommerce agency for health products – an agency that doesn't just produce pretty pictures and cool videos, but one that drives you sales. So tune in and be inspired by another successful affiliate marketer we can all look up to.  
You'll Find Out:  
How Tony transitioned from chemist graduate to 8 figure affiliate marketer and now founder of Ecommerce agency

How and why he decided to start an Ecommerce agency 

Life skills that affiliate marketing has taught him

Why his emphasis on company core values instead of profit driven goals

Challenges faced and future vision
Guest: Tony Wang
Host: Jon Semira
[MASTERMIND GIVEAWAY]
If you haven't joined the latest mastermind giveaway by Deberoo in our last episode, we still have 1 giveaway left for a free entry to their December  Mastermind worth €1000! Join this Giveaway HERE .
Thanks for joining us this week and feel free to leave your feedback in the comment section below! If you enjoyed this episode, please subscribe to us on iTunes, Spotify or TuneIn and leave your valuable ratings and reviews!
For more on Everything Under the AM-Brella and Wewe Media, follow @Wewemedia on Instagram & Facebook