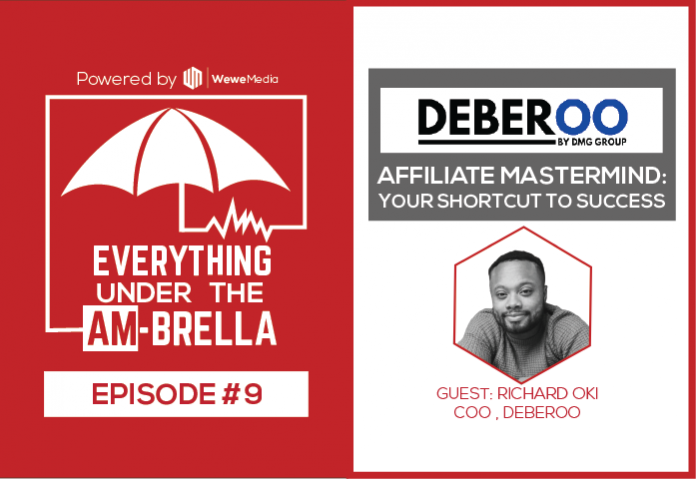 Listen, Subscribe and Rate us on iTunes, Spotify or TuneIn!
Affiliate Mastermind: Your Shortcut to Success?
"There's a reason why 5% or less make all the money – they have information you don't."
– Richard Oki, COO, Deberoo 
The shortcut to success? It's not just working harder, but smarter. Finding the right guidance could propel your success in ways you can't imagine. Today we're excited to have Richard Oki, COO of Deberoo, the masterminds behind a series of proven affiliate coaching programs. Join us as we find out about Richard's background from newbie to super affiliate marketer making 5 figures, a deeper look into their mastermind and why it might just be what you need as well as affiliate tips we can all learn from.
You'll Find Out:  
Richard's journey from newbie to super affiliate marketer 

Why a Mastermind is your shortcut to success




– How Deberoo differs from the rest




– Upcoming masterminds  (Including access to more than 10K value worth of coaching)

Tips on approaching affiliate marketing full time




– Why it's important to find the right guidance and mindset

Trends in Blackhat vs Whitehat

Richard's first success and challenges faced 
[MASTERMIND GIVEAWAY]
When we say that Deberoo is all about no-nonsense coaching, they mean it. And they're giving 3 of our lucky listeners a chance to join their December  Mastermind worth €1000! Join this Giveaway HERE and try it out for yourself!
Guest: Richard Oki, COO at Deberoo
Host: Jon Semira
If you're not an affiliate with us, make sure to check out this affiliate network review by Richard to find out more about Wewe Media and do not miss Deberoo's youtube channel for more exciting content.
For more useful tips, make sure to join Deberoo's  Forum and Facebook Group . 
Thanks for joining us this week and feel free to leave your feedback in the comment section below! If you enjoyed this episode, please subscribe to us on iTunes, Spotify or TuneIn and leave your valuable ratings and reviews!
For more on Everything Under the AM-Brella and Wewe Media, follow @Wewemedia on Instagram & Facebook