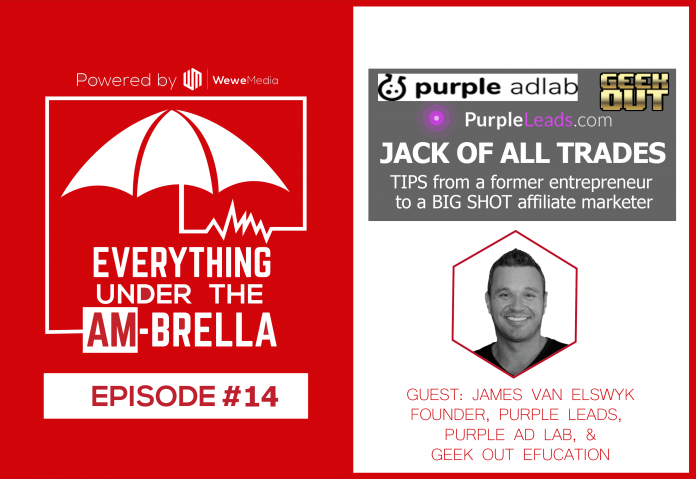 Listen, Subscribe and Rate us on iTunes, Spotify or TuneIn!
Jack of All Trades – TIPS from a former entrepreneur to a BIG SHOT affiliate marketer
"and to be a great marketer, you got to be a generalist, you can't be a basketball player that just takes jump shots you gotta eventually learn to grab rebounds  and make assists" – James Van Elswyk
James Van Elswyk in the house! If you don't know him – where have you been?!
Founder of Purple Leads, Purple Ad Lab, and Geek Out Education. Listen to his tips and advises from personal to professional perspective. What are the turning points on his life made him what he is right now. His passion of teaching and helping others especially in the field of affiliate marketing. James' plans and goals as an influencer, teacher, CEO and of course as an affiliate marketer – Indeed, a Jack of all trades.
You'll Find Out: 
James' journey from entrepreneur to one of the huge affiliate marketer
The start and progress of his own e-commerce business
More things about his own agency – Purple Leads
Why Native over Facebook traffic?
All about GeekOut.edu and happenings on his L.A. event thus his next one
Tips directly from James on how to balance overwhelming schedules/routines
Things most people don't know about James' personal life – his journey building his charity schools and its future
Guest: James Van Elswyk, Founder, Purple Leads, Purple Ad Lab, and Geek Out Education
Host: Jon Semira
Thanks for joining us this week and feel free to leave your feedback in the comment section below! If you enjoyed this episode, please subscribe to us on iTunes, Spotify or TuneIn and leave your valuable ratings and reviews!
For more on Everything Under the AM-Brella and Wewe Media, follow @Wewemedia on Instagram & Facebook