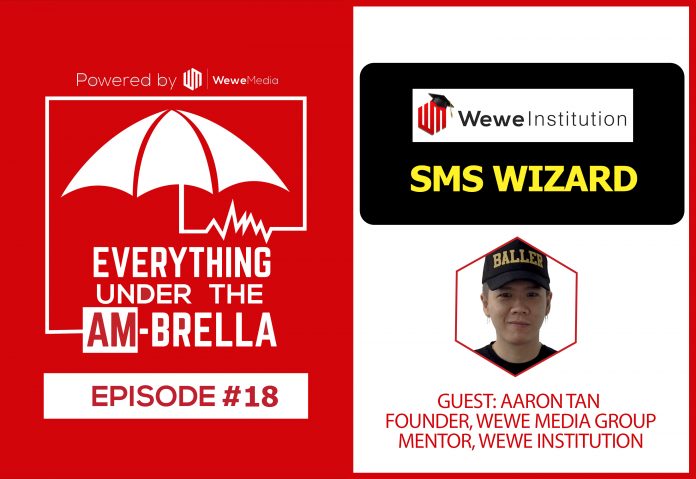 Listen, Subscribe and Rate us on iTunes, Spotify or TuneIn!
The SMS Wizard of Affiliate Marketing
"

就像每一种不同的营销方式,开始都会亏一些钱。对我来说,这不算亏钱,而是一种投资,因为我知道只要不放弃,继续坚持,始终一定会成功"
-Aaron Tan
Today's episode is an exclusive, Mandarin version of one-on-one interview with special guest, Aaron Tan!

Founder of Wewe Media Group. Be informed with his tips and other knowledgeable advice about SMS marketing in the affiliate industry. Insider info and details about how he started as an accountant to becoming a SMS Wizard, earning high profits. He shares about his journey and what he did to get so successful today.
You'll Find Out: 
Why and how Aaron started Wewe Media Group

How Aaron became the best at what he does- SMS Marketing

Biggest challenge experienced doing SMS Marketing

The different traffic sources Aaron went into before SMS and his experiences

Aaron's success with SMS marketing

Tips and tricks for an SMS beginner

Why Aaron started Wewe Institution

"I launched the Wewe Institution for one main purpose, to share knowledge. I know first hand how it feels like to be an affiliate and the struggles that we face throughout our entrepreneurial journey. Earlier in my career, I wish that there was an online institution like this that existed, where I could learn from experts and help accelerate my business. By building the Wewe Institution affiliates have access to courses, case studies, blog posts and valuable information that can help them grow."
Guest: Aaron Tan- Founder of Wewe Media Group
Host: Charlene Hu
Thanks for joining us this week and feel free to leave your feedback in the comment section below! If you enjoyed this episode, please subscribe to us on iTunes, Spotify or TuneIn and leave your valuable ratings and reviews!
For more on Everything Under the AM-Brella and Wewe Media, follow @Wewemedia on Instagram & Facebook