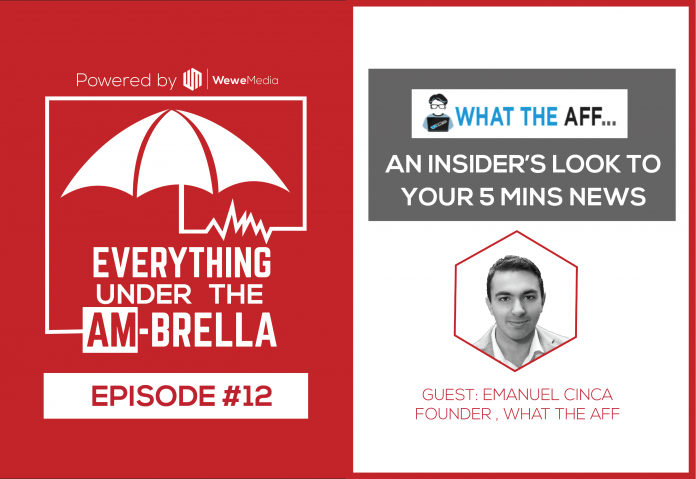 Listen, Subscribe and Rate us on iTunes, Spotify or TuneIn!
An Insider's Look To Your 5 Mins News with Emanuel Cinca

Looking for your 5 mins affiliate news covering only the real deal?  WHAT THE AFF is your gem. Join us for an enlightening peek into how WTAFF Founder, Emanuel Cinca, started his journey to launch a now widely subscribed affiliate marketing email newsletter with bite-sized yet impactful content. What's more, get yourself equipped with his personal recommendations on running affiliate marketing campaigns,  all in this episode.
So make sure to tune in and if  you haven't signed up to WHAT THE AFF yet? Do it here!
You'll Find Out:  
How WTAFF started out 

Where their great content comes from

How sustainable is affiliate marketing? 

Future plans for WTAFF 

Recommendations for affiliate forums, spytools, trackers, traffic source 

Creating a unique selling point as a network or advertiser

Rapid Fire Questions: 10 things you probably didn't know about Emanuel 
About that Push Traffic Ebook we mentioned in our podcast, if you missed it in WTAFF, you can download it here

Guest:Emanuel Cinca, Founder, WHAT THE AFF
Host: Jon Semira
Thanks for joining us this week and feel free to leave your feedback in the comment section below! If you enjoyed this episode, please subscribe to us on iTunes, Spotify or TuneIn and leave your valuable ratings and reviews!
For more on Everything Under the AM-Brella and Wewe Media, follow @Wewemedia on Instagram & Facebook