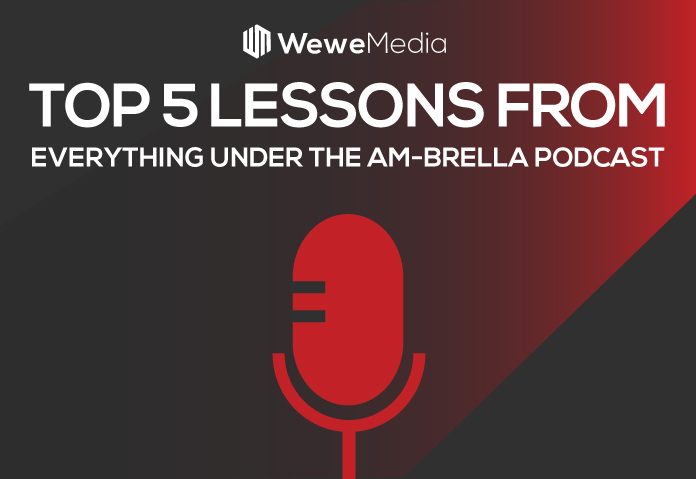 Top 5 Lessons From Everything Under The AM-Brella  
With 2019 nearing the end, there is no better time to look back on our achievements since "Everything Under The AM-Brella" was launched.  It has been an exciting journey featuring guests from all sorts of backgrounds, but united in their desire to make affiliate marketing work . We hope you have gained as much new insights as we did from these guests while inspiring you at the same time. Today we share with you 5 top lessons we've picked up from our lovely guests to round up our series for this year.
Lesson 1: Network and find yourself a good mentor 
Like our guest Richard Oki COO of Deberoo said, " There's a reason why 5% or less make all the money – they have the information you don't." For most of our guests, the turning point to their affiliate marketing journey came upon meeting the right person for guidance. Sometimes it's not just about working harder, but also smarter. Here's how 3 of our podcast guests met their mentor (s) who eventually propelled them to success. 
For Mikhail Novikov who discovered the affiliate industry by chance and had no idea of what marketing was, things didn't exactly start off well. But when he finally met some affiliate insiders who showed him how things worked and some good angles, his campaigns began taking off. Now CTO of a chatbot company,  he's also a tech speaker at many conferences to guide other lone affiliates to achieve the level of success like he did. 
Tony Wang, successful 8 figure affiliate and now owner of an e-commerce agency, abandoned his original chemist path and entered the affiliate industry. Starting off as an intern to an affiliate friend, he learned everything he needed to start his own paid ads in a short span of 6 months and eventually scaled his business to success. 
How did Richard Oki, COO of Deberoo get to where he is now coaching other affiliates? Through networking. He was fortunate enough to meet some high end black hat affiliates doing 6 figures a month who brought him under their wing and placed him in the right direction with CPA. He met Colin at an affiliate marketing conference in Amsterdam, stayed in touch and ended up partnering to create Deberoo, an affiliate coaching course to spread their knowledge to the rest of the community. 
Mentoring isn't just applicable in the affiliate world. Bill Gates had Warren Buffet as his mentor, Mark Zuckerberg had Steve Jobs – the business world is full of famous mentorship relationships that made a huge impact.  So if you're feeling stuck , maybe it's time to start reaching out to people in the industry, and we're lucky to have several big conferences held annually for this purpose. 
Lesson 2: Build up a dream team with the right mentality
Successful affiliates often progress on to build their own company but this transition is not without challenges. As Mike Semira, Ex SVP of Supply & Strategy of Mundo Media, highlights – "Everybody eats mentality, success is often shared among the team mates" – driving the right mentality and values in a company is key to boosting team morale and success. Unlike going solo, your company's success now depends on how well your employees perform, not just yourself. So how do you inspire them? 
That's a problem Benjamin Yong faced on his journey. The most challenging part of building a company is managing people and their expectations, and it's great that he recognises the importance of good leadership and management.  But hiring the right person is also the key, and for him attitude and hunger for success is what he looks for in a candidate.
For Tony Wang, his focus on core values rather than profit is certainly a step in the right direction. By doing so, he is able to put his company in alignment, which he believes can help to accomplish so much more instead of having everyone on different pages. These core values are something we can all learn from: 
Excellence in everything we do

Non stop improvement

Creative intelligent risks

Speed of execution 

Put humans before profit
At Wewe Media, we too, have our own set of values- the F.A.C.T.S– that we follow to align ourselves with a common mentality that drives us to deliver the best to our partners. 
Lesson 3: Execution, execution, execution 
We got this one from Benjamin Yong. He even has a quote printed out in his office as a constant reminder : "When there are doubts in trying, stop thinking and just do it". 
And we couldn't agree more. One reason why people can't get successful is because they never even started. Worrying about the things that has yet to happen will only create a dead end that will never see action. 
As Tony Wang rightfully says, " Do things fast or the competition will blow you away". The speed of execution is as important as the planning process. Just like what we believe in at Wewe Media : "Fast is Better than Slow" , "Sound planning is nothing without execution". 
Lesson 4: Use your tools to your advantage
There's certainly no lack of innovative energy in the affiliate industry, as new tools are always showing up to improve the way we run campaigns. With AI and machine learning ,the possibilities are endless, as 3 of our traffic source partners have shared with us.  Exploring these tools and maximising their technical strengths to your advantage will save your plenty of time and maximise your results greatly. 
If you're looking to find the solution to scale your campaigns despite facing a tight schedule. This may be it. Our guest Losid Berberi, CMO of The Optimizer is the team behind a great optimization tool that helps you to deal with the most important tasks and gets rid of the boring repetitive ones with automation. With the possibility to create more than 65 campaigns with 5-6 creatives each under 20 minutes, this is the machine power you need. 
Using push as your main traffic source?  Yan Gorbach, Head of Customer Success at RichPush shared some great features including his favourite micro bidding option which allows you to customize your bids in a targeted manner. Their targeting options are endless and certainly helps you to find the best audience for a profitable campaign. 
If your strategy includes building your own push list and monetizing it, the dedicated team behind Pushnami will have you covered. As Joshua Briggs, Pushnami Director of Sales, shared with us, they have spent thousands of hours and resources developing an AI platform with advanced technical capabilities that provides your campaign an extensive reach covering hundreds of web browsers. If you'd like to find out how we monetized our push list, sending over 1.4 billion push messages and making over $300K profit check it out here. 
There's plenty of affiliate marketing tools out there to help you win this affiliate battle so don't let it slip, but choose your weapon wisely too. 
Lesson 5: Put in the extra effort, stay on top of trends
As cliche as it may sound, the price of success is hard work. To succeed, you need to be hungry to put in the extra effort. 
One of the affiliate tips Benjamin Yong talked about in our podcast is to  go after the geos with volume. By this he meant not just Tier 1 geos, but non english speaking countries like Indonesia and India. While translation is a huge barrier that stops many affiliates from entering these geos, the few willing to take the extra mile and do the extra work will certainly be rewarded.
Yan Gorbach also identified key mistakes that people make when launching push campaigns – the lack of AB testing, using only 1 creative for a campaign, copying other creatives and lack of optimisation. And all these mistakes can simply be boiled down to the lack of effort. 
It's not just putting in extra effort in running your campaigns, but also putting in the work to stay on top of affiliate marketing trends. Affiliate marketing is a change driven, dynamic industry where speed and knowledge is crucial to succeed. The lack of quality affiliate marketing news in the industry was what inspired them to start up Zorbas Media, as Stan Semenov, Head of Growth at Zorbas Media shared with us. There's multiple channels and sites to help you to stay updated so make sure to check them out!
What about you?
What were the key lessons you've learned from "Everything Under The AM-Brella"? Feel free to share with us we would love to hear from you. That's it for this year and we look forward to another exciting 2020!