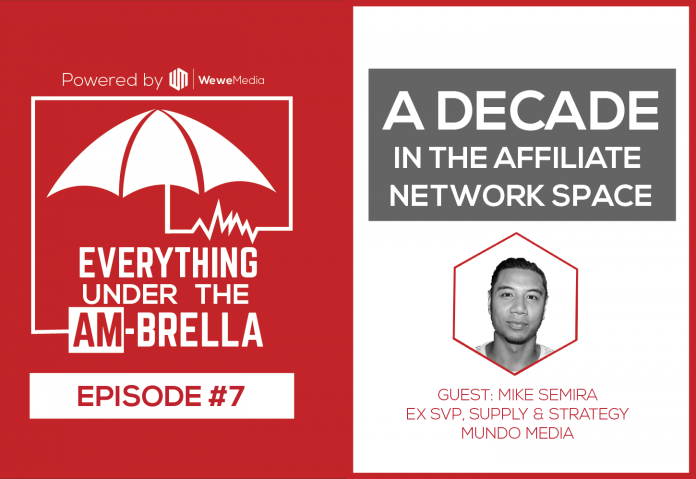 Listen, Subscribe and Rate us on iTunes, Spotify or TuneIn!
EPISODE #7: A Decade in the Affiliate Network Space – The Ups the downs and everything in between with Mike Semira
Sometimes life takes you on an unexpected journey, as we'll  find out with today's special guest Mike Semira, former SVP of Supply & Strategy of Mundo Media. From car magazine salesman to leading a global team at Mundo Media and now VP of DMS Group, you can say that this guy has gone through it all. 
Also the man who propelled our Podcast Host Darren into the affiliate industry, we're excited to have him on our show to talk about his ups and downs throughout the journey, his time at Mundo Media and what led to its eventual decline. Trust us when we say this is a story you'll love.
You'll Find Out:  
How Mike propelled Darren into the AM industry (Hint: All it took was one Bachelor party)

Mike's journey from Car magazine salesman to Senior Affiliate Manager at Mundo Media

Challenges and how he became former SVP of Supply and Strategy of Mundo Media 

What led to Mundo Media's decline

His greatest achievements so far

Life lessons he has learnt 

What's up and coming for him

Recommendations on becoming an affiliate manager
Guest: Mike Semira
Host: Darren Liu
Thanks for joining us this week and feel free to leave your feedback in the comment section below! If you enjoyed this episode, please subscribe to us on iTunes, Spotify or TuneIn and leave your valuable ratings and reviews!
For more on Everything Under the AM-Brella and Wewe Media, follow @Wewemedia on Instagram & Facebook